Three factors have been responsible for the growth of the ecommerce fashion and apparel industry: M-commerce, convenience, and better prices. When you collect these factors in a single sentence, it tells you: Relax and do your shopping by your cell phone at better prices and more convenience.
Social distancing and quarantine during the pandemic caused online shopping to grow inevitably. But this record-breaking growth didn't solve the problems of the online fashion industry.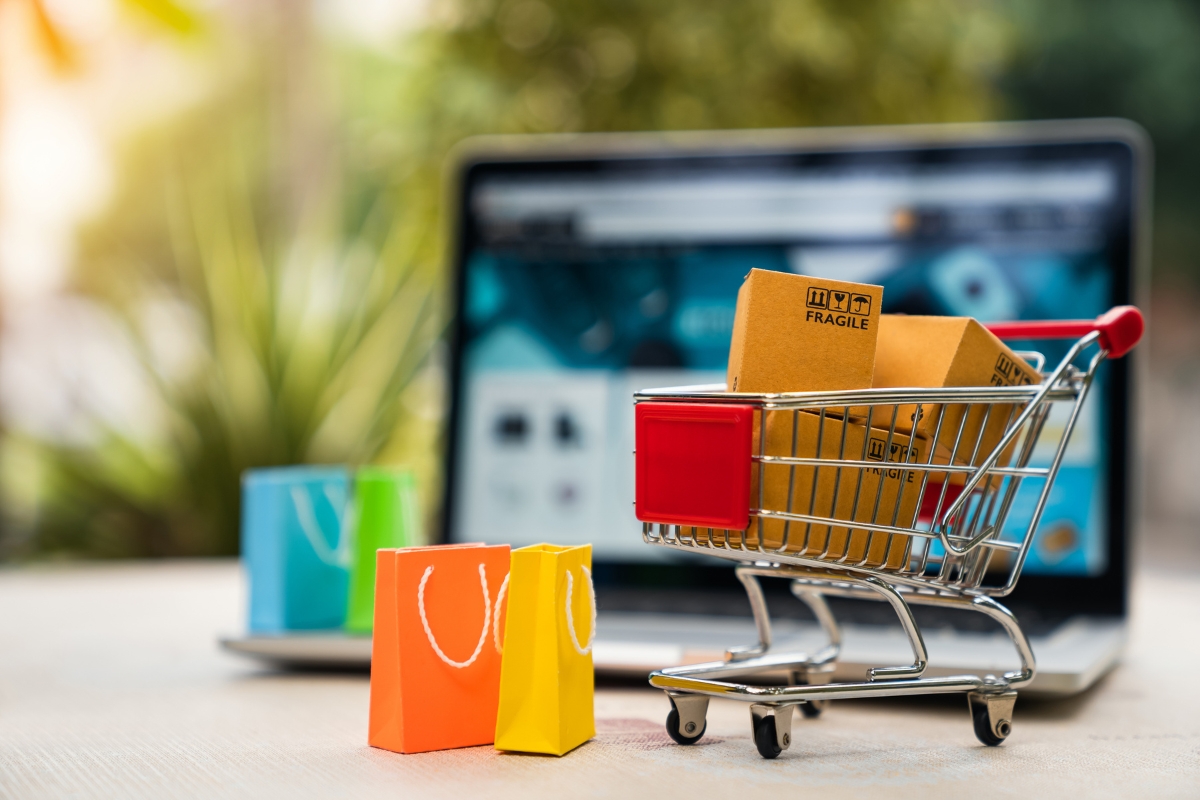 According to Nasdaq, 95% of purchases will be online by 2040. Needless to say, every change and growth comes with some obstacles. Tackling these obstacles should be the main priority of every online business to survive and flourish in this competitive market.
Growing Concerns About Sustainability
Maybe a few decades back, sustainability has just been a fancy word. Some may argue that it has righteously been this way.
First of all, the speed and the amount of polluting the air, wasting resources, damaging the ecosystem, and the other shortcomings in human rights have never been this much that now we are witnessing. And the other reason is that the awareness of sustainability has never been on this level.
But, today, the fashion industry, after the oil and gas industry, is the second most polluting industry in the world. Also, the fashion industry is one of the worst human rights offenders: minimum wages, unhealthy work hours, and exploiting workers in different ways.
How can anyone be indifferent on the matter? Global conventions are held each year. Nowadays, everyone can lecture you about sustainability, and ignoring it can ruin your business.
The fashion industry needs to invest more on innovation in different areas of the business. New fabrics, efficient AI-based tools to reduce the waste of all the sources involved, and more eco-friendly technologies to various stages of production, from designing to customer support.
Counterfeit Products
Counterfeiting has always been one of the major challenges for fashion brands, and it's getting worse every passing day. As of the end of august 2022, according to certilogo, nearly 20 percent of products in the fashion sector being advertised on social media are counterfeit. And 8 out of 10 shoppings have been done online.
So, ecommerce, with all its efficiency, hasn't been successful in solving this problem so far.
Counterfeits are like viruses in many ways. Fashion brands have to stop them before they spread and cling to the vital organs of the industry: the market.
Once a counterfeit finds its way into the market, it becomes a very difficult issue: buyers can't tell which product is counterfeit, and the fake product begins its long journey to undermine the quality, authenticity and income of a brand.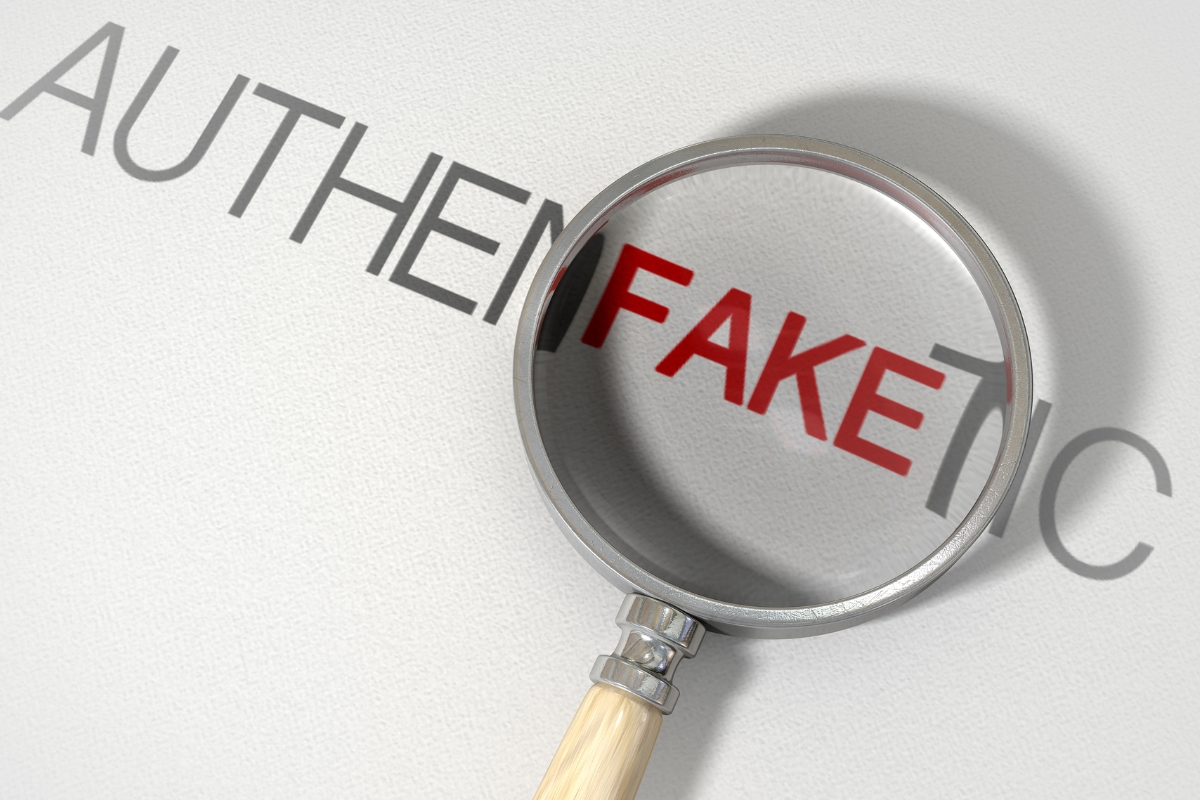 Apart from more traditional tricks such as holographic labels and watermarks, there are a number of solutions in hand to fight counterfeiting, some made available by technological advances in ecommerce.
There is a good chance that using the image of your product is the first step in counterfeiting it. Utilizing softwares will help you detect when someone is using the image of your product illegally so that you can stop it before it's too late.
Digital twins: digital counterpart of every product to act as an ID to trace its path in the market, enhance the quality of delivery and customer support, and prevent any kind of fraud, including counterfeits.
Selling directly from your own website is the ultimate relief when it comes to counterfeits. As an online apparel business, providing a pleasant user experience is your duty and at the same time, your winning card. If the customers are satisfied with their overall experience on your website, why should they choose to shop from another place?
Long Detailed Expensive Process
The apparel production process is a truly long one. Designing, searching and spotting the right material, finding a manufacturer to produce your design at a reasonable price, and then entering the long maze of distributing your product in different markets on the planet is more than just a long process.
Even a single minor error in every stage of this long line can be critical. Here is when inventory and logistics act as the leading role in your business to help you have the upper hand in this crowded market.
Every fashion brand needs to have instant data on every detail of the job to manage the resources according to sustainability and brand's best interest.
Using PLM (product lifecycle management) and ERP (enterprise resource planning) softwares can help fashion brands to have real-time knowledge about the sections, teams and departments involved in the production.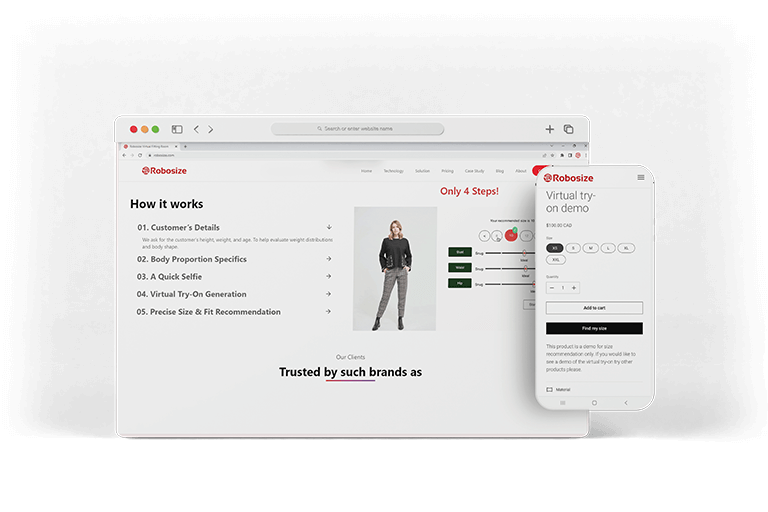 Fit Advisor
Fit advisor helps your customers find the right size with a few clicks; so they can buy with confidence.
Let`s Talk
Flood of Returned Products
When customers bump into the return policy of an online shop that says "no returns or refunds," it makes them nervous and unable to trust the retailer. They want to be sure that they can make mistakes without being forced to pay for them. So, having a return option is not optional anymore.
Return rush makes everyone hurt in the process: retailer, buyer, and the earth. Therefore a  flexible return and refund policy in the best interest of all the parties should be implanted along the way.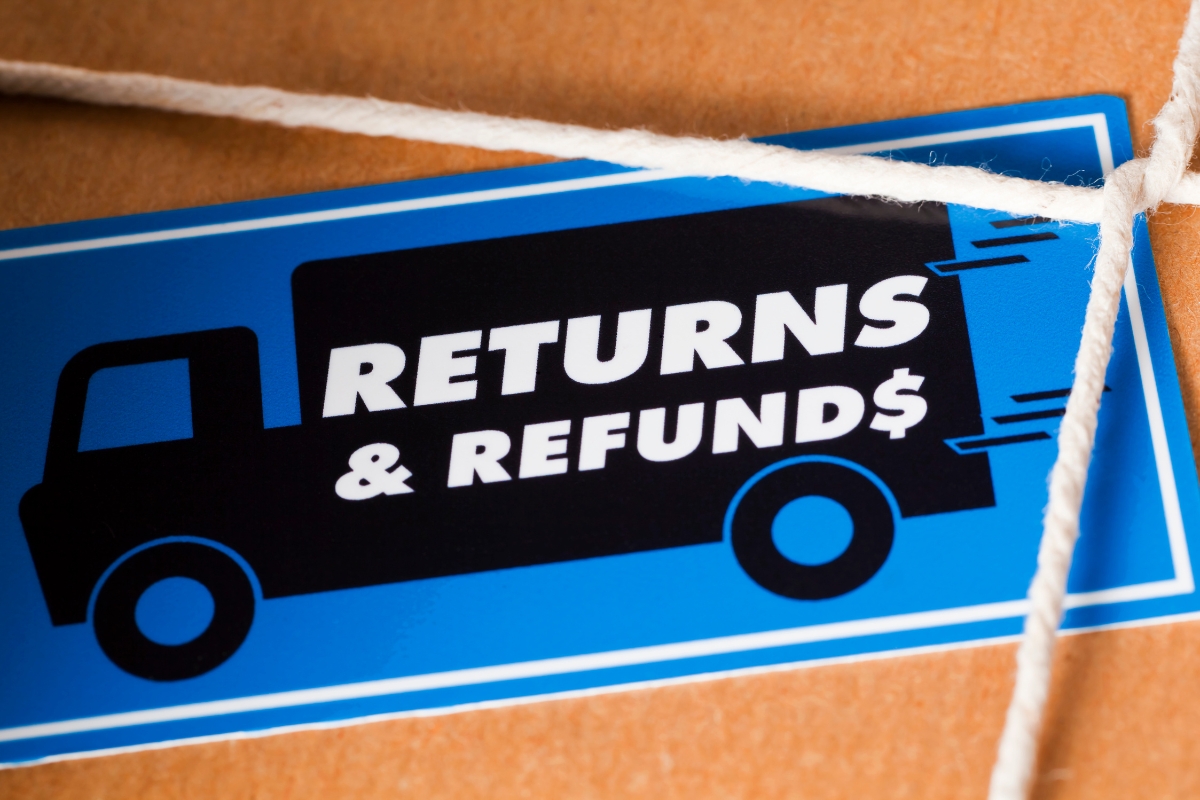 But, getting back what you've sold is not the first thing to consider when planning the business. There are a lot of steps before to convince the customers on what they're buying.
A satisfactory user experience is one of the things you can rely on to prevent a lot of stoppable returns. UX is the overall feeling of a customer facing what a business has to offer. And what can be more promising for an online apparel shop than providing the customers with an efficient tool to find the best size and fit for their body types?
But after taking all the necessary steps, having a sufficient return policy makes your brand look confident, helps the customer feel relaxed and comfortable, and spares the earth a little of its sources and gives it some time to mend its wounds.
Device Screens and Different Colors
The customer picks a piece of apparel from an online shop. The package is sent back the moment the delivery is being made. There is this repeating explanation in return: "This is not the color I chose."
If you are to believe the authenticity of the explanation, just one other reason is left on this return: the color of the products on the customer's devices has been different than yours.
Using color codes and asking the customers to use a standard color setting on their devices is an easy solution to this problem.
Low Prices, More Sales
From December 2021 to December 2022, according to the Bureau of Labor Statistics, CPI (the consumer price index) for all items rose 6.5%. And it's a known fact that the price is the first factor -or among the first factors- when deciding about a purchase for most customers.
It's no wonder buyers look for the lowest prices, and It's impossible to ignore the impact of lower prices and their contribution to online fashion sales growth.
Nearly half of U.S. consumers In 2022 abandoned online purchases during checkout because of additional costs, such as shipping, taxes, or fees.
Low prices help companies to win their own market share by attracting new customers, making them feel happy about their purchase, and spreading the word about their experience. But how can an online apparel shop offer low prices to overtake the competitors?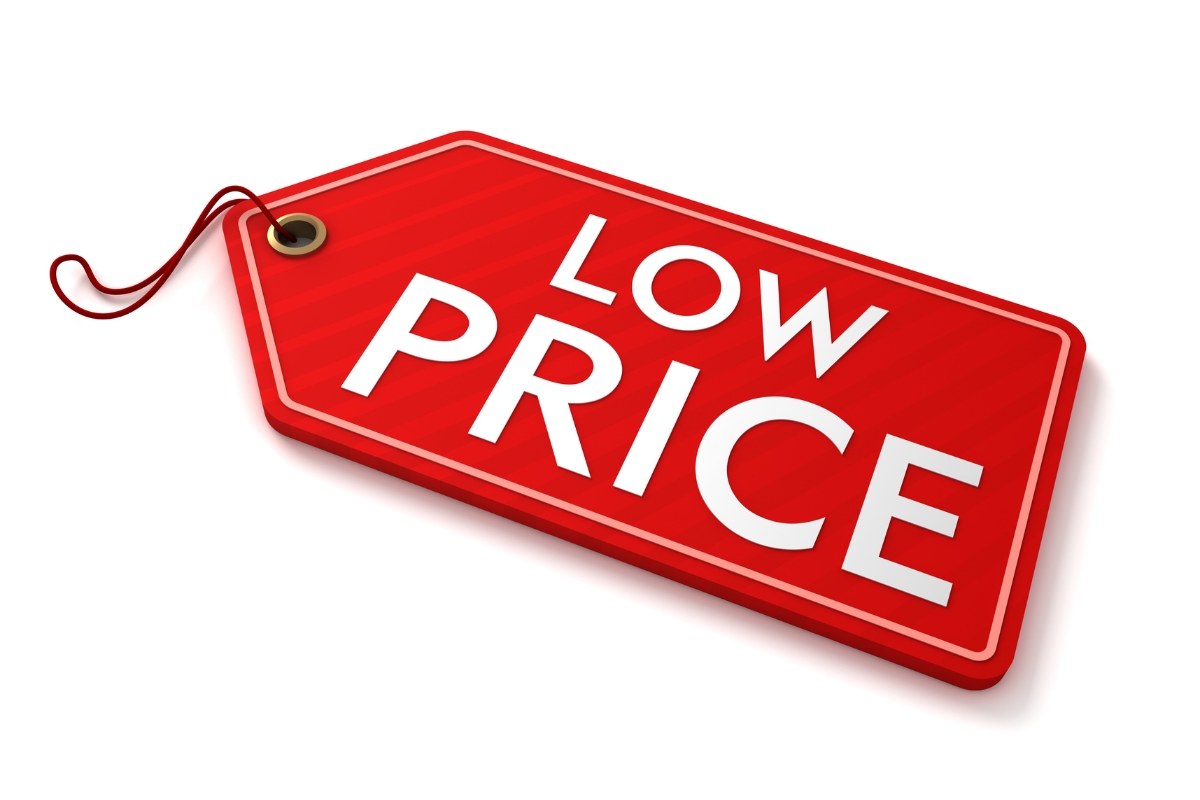 Actually, the answer to this question is the golden key for every business. Who doesn't want to offer lower prices to attract a bigger market share?
Apart from some intrinsic aspects of every business, some common rules are applicable in different sectors. Managing the resources in the production process, keeping a transparent inventory record, enhancing the quality of user experience, and everything you present the customers with is a piece of the puzzle to reach a lower price.
Buyers Changing Preferences and Applying the Right Technology
There are a number of predictable modes and preferences of the customers according to the seasons, holidays and special occasions, locations and culture. But the problem is the changes that don't follow a specific pattern.
Flexibility is the magic wand when facing a new trend and tendency. A flexible online apparel business is always focused on finding new ways of running the business to adapt.
If there is no problem, there won't be technological developments. So, every new technology is a problem-solving tool. Studying the problems of the business and applying the right technology are what put a brand ahead of the obstacles.
Sizing and fitting tools are a good example of applying the right technology for online fashion retailers. Let's try to clarify the situation in three parts:
Customers prefer to do their shoppings online.
What are the most essential features of a piece of clothing? Price, look, and size.
What should an online shopper do to get the best fit?
Answering similar questions points to the required tools and technologies of every different ecommerce business.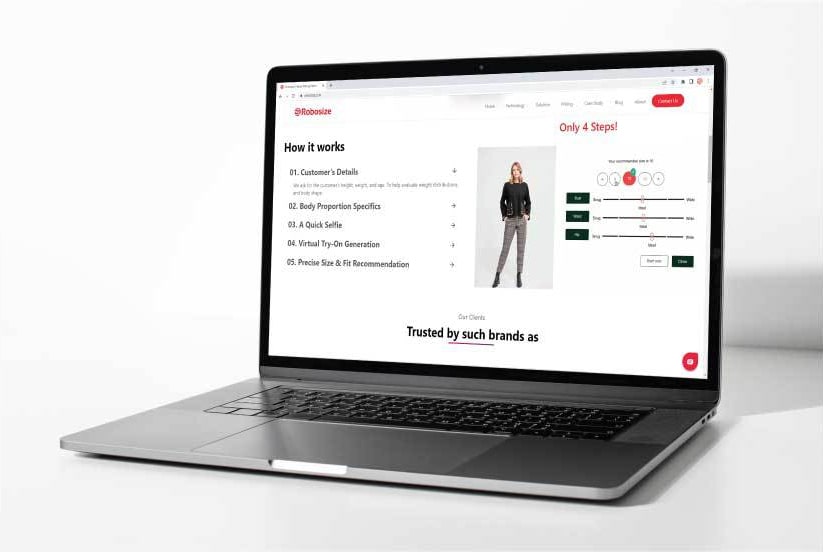 Virtual Fitting Room
The right size, The first time
Finding the perfect fit with a few clicks. boosts sales and cuts returns
Try Femo for Free
Conclusion
Focusing on solving the problems has always decided who to come out on top. Whatever the challenges are, the ingredient of success is and has always been the same: being aware of what the customers want, watching the competitors with open eyes, and facing new technological developments with an open mind.
Providing an optimal shopping experience is the ultimate goal of every business. If you are running a fashion ecommerce business, Robosize is a solution for some of the recurring problems in online apparel shopping. Try it with open eyes and mind!