Customers buying behavior changes constantly, and you need to track these changes to fulfill their demands. The moment you fail to satisfy them, you'll face your downfall. Every online retailer needs to keep pace with the current trends and advanced technologies to avoid meeting that so-called downfall.
The fashion and apparel market is the biggest in the B2C eCommerce universe. After facing some bad days caused by the pandemic, the fashion market, including the global apparel and footwear industry, is expected to reach $1.164.7 billion in value by 2025.
Now, it's a fact that Online Clothing stores, while taking a serious hit during the pandemic, proved themselves more immune to such strikes.
But what's going to help to reach this forecasted revenue? Living in the age of all kinds of innovations, It's not a surprise for anyone that technology was the critical factor in the apparel market to survive during the pandemic. And it's going to explore some other angles of the online shopping experience.
Three Key Elements Assisting Online Clothing Stores
Three prominent factors are making way for this kind of development in the fashion and apparel industry:
● mCommerce: Smartphones at The Service of Online Clothing Stores
According to SaleCycle client data, 66% of online sales in the fashion industry and 76% of online traffic are via smartphones. The more mobile-friendly the Online Clothing Stores become, the more this number will grow in time.
● Shopping Online Is More Convenient
Studies have shown that 52% of half or more of shoppers' purchases are determined by mere convenience. In other words, UX is the decisive factor in turning visitors into paying customers. And this deciding factor is the overall experience of a user from the website itself, choices available, sizing and fitting tools, delivery, return, customer service, etc.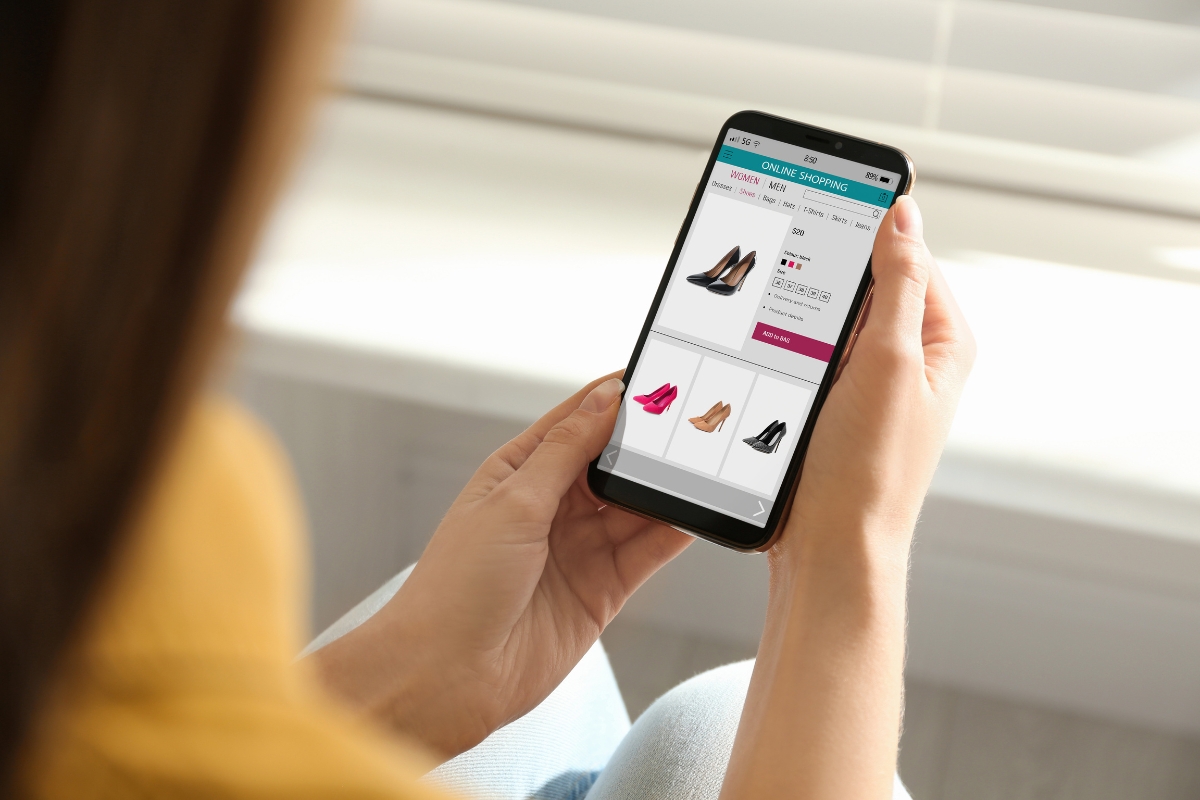 ● Reasonable Prices
Resting in the safety of the houses, customers can spend time comparing the prices, looking for the best offers and waiting for discounts. Nearly 54% of shoppers will not pay for the picked items in their abandoned shopping cart before receiving a discount.
Is There Something Called "Fashion Technology"?
It's been said a million times that we live in the "insta-age". Thanks to social media, customers are used to having immediate access to the latest trends.
In such a fast-changing environment, only those who pick up the pace and make their operation more responsive to the needs of the market can be counted as real competitors.
Artificial intelligence is serving as a personal shopping assistant for both parties in online shopping. Ecommerce clothing stores can benefit from AI-related innovations to enhance the level and the quality of their impression over the customers. Customers, on the other hand, can experience more convenient online shopping.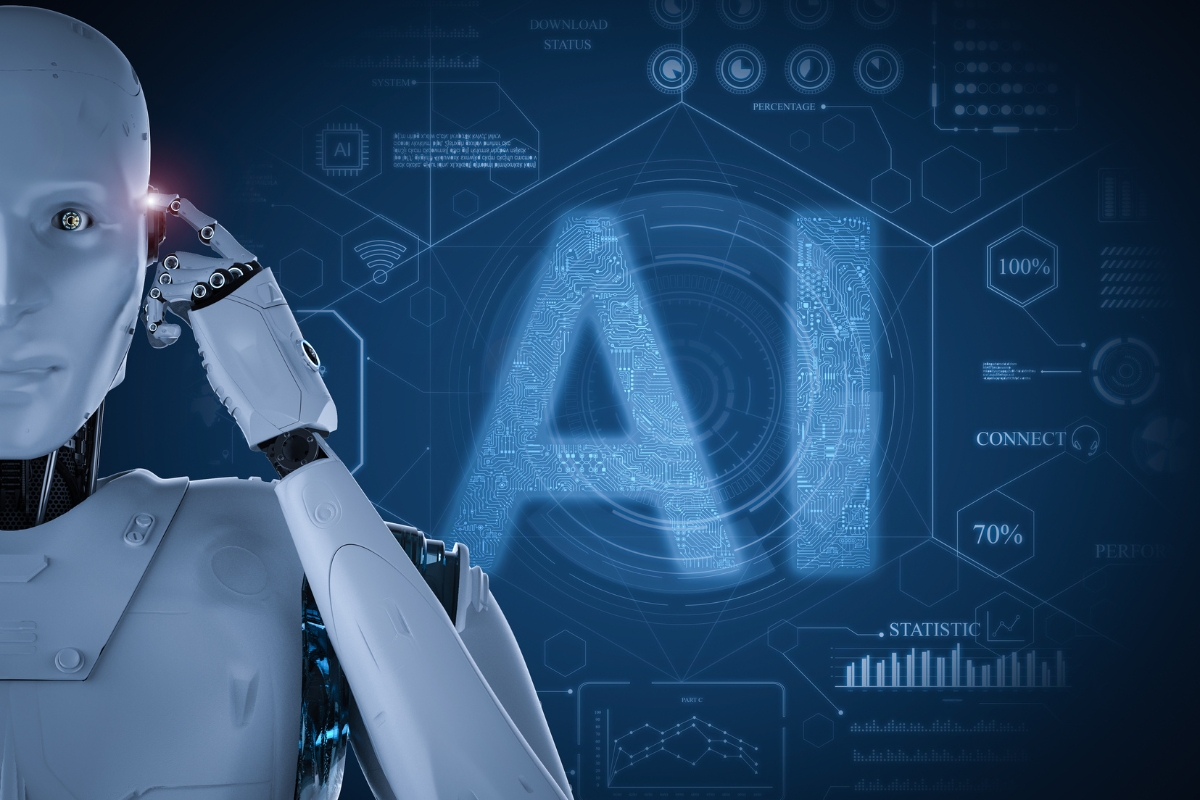 Fashion technology is optimizing the designing, manufacturing, production lines, selling process, distribution, returns and disposal to a more managed and profitable industry.
With the growing number of online stores and buyers, having implanted these innovations is becoming a MUST for apparel businesses.
Here, we've prepared a list of the top Al-based Technologies in today's fashion industry.
It's been a while that brands have been using AI to improve the user experience. Al-based technologies are focused on analyzing data to increase sales, predict upcoming trends, and provide inventory-related advice.
The technology behind most AI's includes algorithms to observe customers to find more related details on them and eventually present them with their desired products. There are also AI stylists who are beginning to emerge in online apparel stores, making styling suggestions based on huge amounts of data and analysis to make the best appeal to each of the customers personally.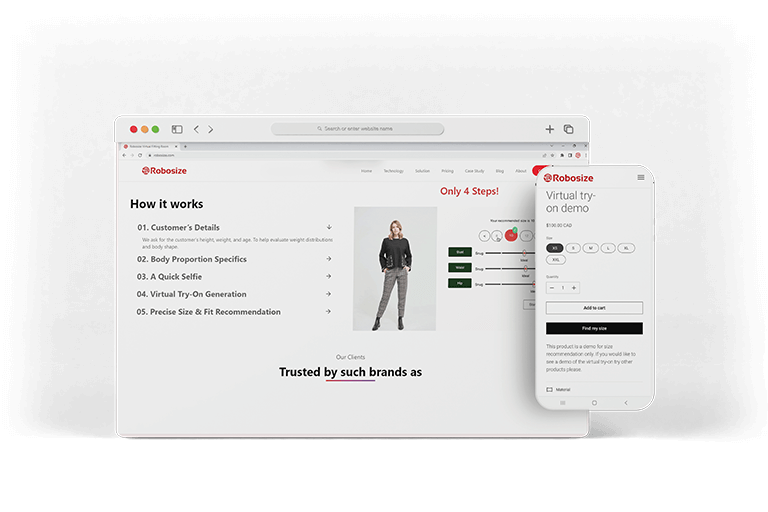 Fit Advisor
Fit advisor helps your customers find the right size with a few clicks; so they can buy with confidence.
Let`s Talk
● Live Streaming
The average time spent by internet users on social media worldwide hit 147 minutes a day in 2022. And you should be present wherever people are online. 5G allows streaming videos with high-definition graphics. Instagram, being the second favorite social media platform, offers a well-crowded space to introduce your products and find new markets.
● Image Recognition Technology
This technology works with trained neural networks to understand the user's preferences. It applies image recognition to social media images to access textures, colors, prints, shapes, etc. After reaching a conclusion, the algorithm creates designs based on users' preferred styles.
These three are just some examples of AI technology in the online apparel industry, and as scientists live on this planet, it will never stop.
● Coming Up With New Fabrics
Using leather in the fashion industry is now being criticized more and more. Every now and then, a new material finds its way into the clothing industry, replacing leather.
Furthermore, tech people have been busy working on new textiles with customizable colors and shapes to adjust the garment with the mode and space.
● Synthetic Media (AI-generated Media)
To put it simply, the automatic creation of data and media by AI is called Synthetic media. There are ethical concerns about this technology being notoriously used in deepfakes. In this technology, AI is in charge of the quality and appropriateness of the final output, which can lead to some forms of risky media for brands.
But, applying it wisely can contain the damage and put the technology at the service of good will. Having an AI producing personalized media to aim directly at ideal products of customers is more than a miracle in advertising and marketing.
● 3D printing
What can be more precise than a computer to do the sewing work? 3D printing, with better results and less waste, can help fashion brands to act more personalized, minimize manufacturing errors, and keep their promises on sustainability. Besides, 3D printing is paving the way to introduce some exciting products, such as seam-free garments and launching mass production lines based on this technology and 3D knitting technology.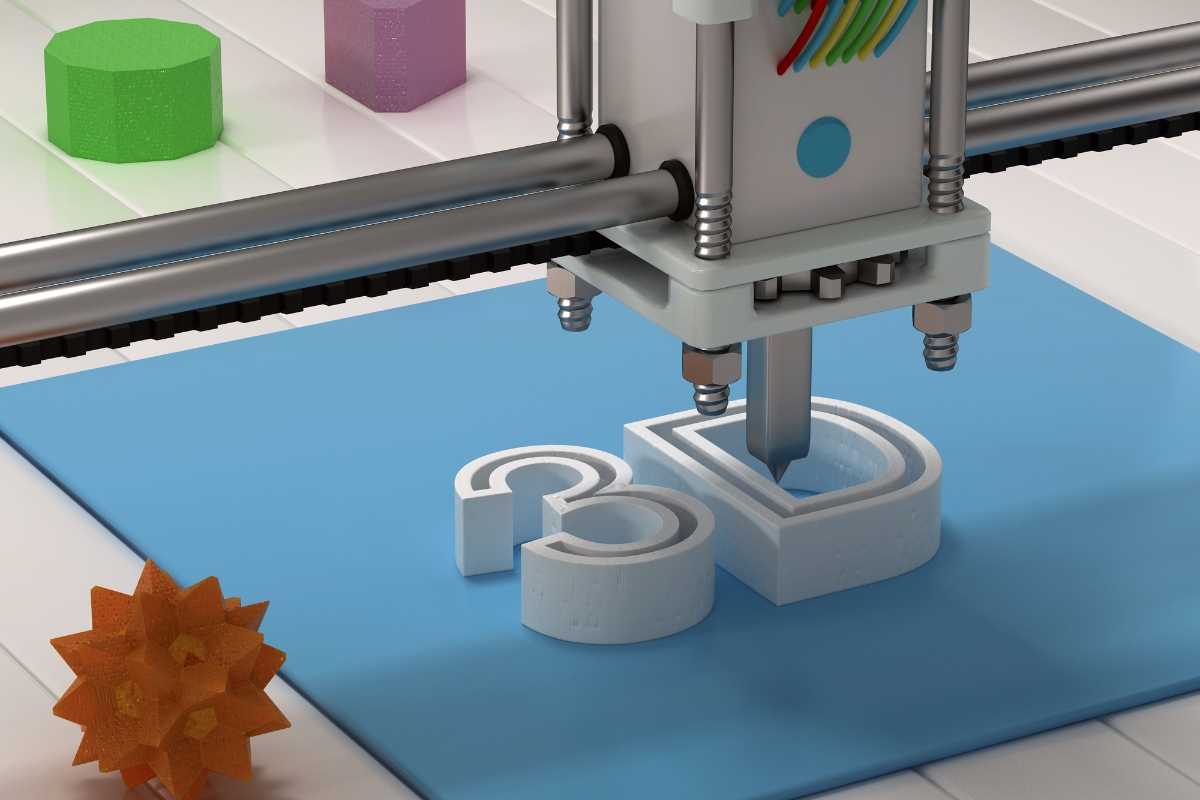 ● IoT (Internet of things)
Being connected to sources of internet networks through sensors and softwares and being able to interact, puts an object in the IoT realm. Lightbulbs, smart ventilation, smart home security systems, wearable health monitors, shipping containers and logistics tracking fall into this category.
The Fashion industry is using this technology to manage stock, reduce product loss, and optimize the delivery system.
Applying IoT in the apparel industry hasn't just stopped at the safety of the shipments. Keeping pace with our lives increasingly mixed with virtual existence, designers have been busy experimenting with the limits of wearability. Now, it's been a while since multi-functional designs, responsive sportswears, and smart clothing have emerged in the fashion scene.
● Sustainability
A challenging question has been asked over the years: can fashion ever be sustainable?
The United Nations Environment Programme (UNEP) report says it takes 3,781 liters of water to make a pair of jeans. Unbelievable! How about 2 billion pairs of jeans made annually? Sure, you can do the math.
According to another survey, 75% of US consumers in 2021 have been concerned about the environmental impact of their purchased products.
With these two statistics in mind, what happens to an industry in which -traditionally- you had to put up at least 11 collections each year just to be on pitch? Either you have to remove more living creatures from the earth, or you need to come up with another solution to compete.
Turning to other sources of supply, such as Environmentally-friendly fabrics, is an option made possible by the new technological advances.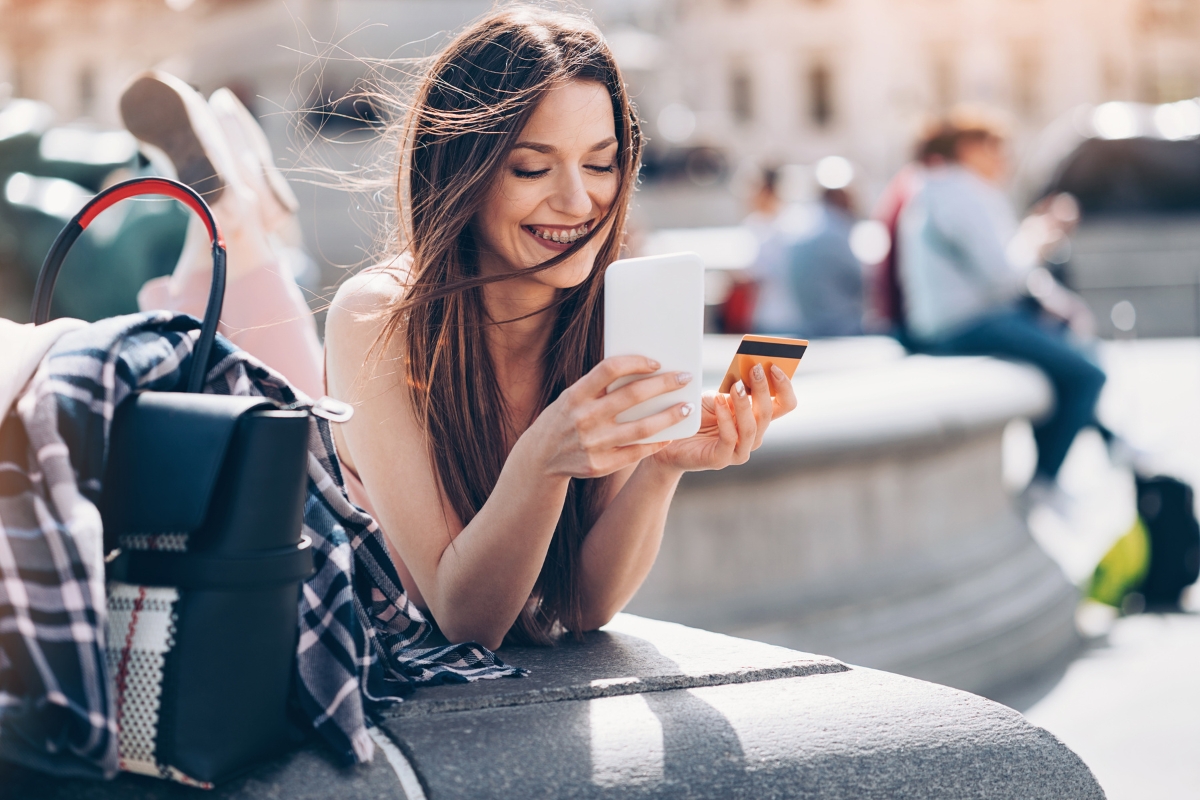 Not to mention that the new generation of textiles is not the only ecological choice offered by technology. Reducing the process in every aspect of the fashion business with all kinds of tech-based tools is another determining hot trend now.
● Blockchain
Have you ever heard about "Digital Twins"? Well, they are the digital counterpart of real-world products, systems and so on. Digital twin is a key word in the blockchain universe.
Transparency, efficiency, and traceability are among the most cited mottos of blockchain. Blockchain provides a cryptographic serial number for digital twins of every piece of the product that you make. So, every clothing item you produce has a unique seal and an identity of its own.
This cryptographic seal can help to track the stages of production, shipping, and everything that happens on the way. This way, online clothing stores can keep their inventory updated, prevent any kind of fraud in the selling and delivering process, confirm a product's authenticity, and have the most transparent reports on the business at every given time.
● Augmented Reality (AR) and Virtual Reality (VR)
Apart from some subtle differences, these two technologies are the same at the heart: both produce a new kind of reality. One famous use of VR is to help customers wear clothes virtually to see, observe and decide what they're going to buy.
This technology allows users to test the look, color, and fitness and adjust their chosen product for cutting, loosening or tightening the fit in real-time.
VR convinces the customers to spend more time on your website to try more pieces of apparel on them. It means that they are more likely to buy your product and feel satisfied with the experience you have provided.
Reducing the return rate, customer services and shipping costs are on the wish list of every online clothing store.
Just take a look at the wide range of opportunities that Robosize and other similar services offer. Rather than losing a potential buyer on a particular style, Robosize represents another visual component to help you seal the deal with skeptical customers.
Read more about virtual fitting rooms.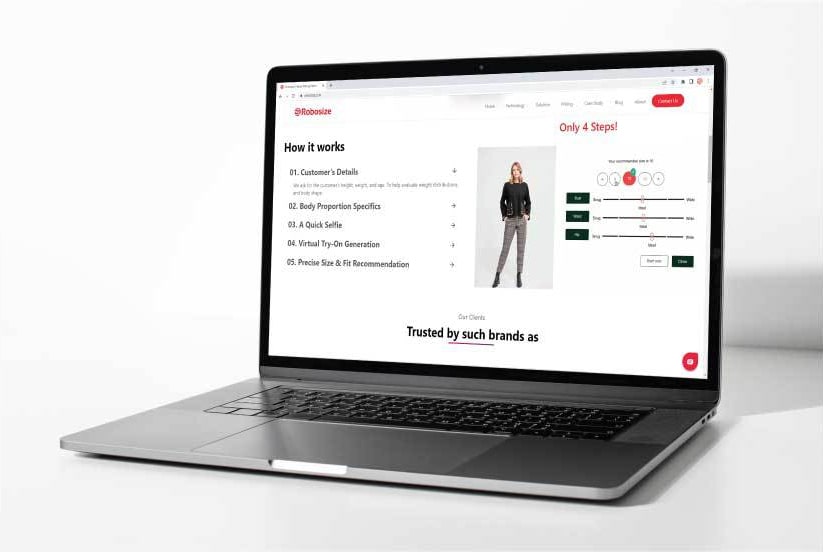 Virtual Fitting Room
The right size, The first time
Finding the perfect fit with a few clicks. boosts sales and cuts returns
Try Femo for Free
Conclusion
Sustainability has been and will be a deciding factor in the business, as well as the other aspects of our lives.
Needless to say, some of the technologies in the fashion industry, just like the hot trends, will be left behind, but there are always the ones to evolve and accompany the industry longer than others. Either way, we can't put aside what we have now and can't wait for the future to bring us new souvenirs.
Retailers, online or traditional, without acquiring the means of their own specific business, won't have a turn in this crowded industry. We have one of these tools ready for you to enjoy. Be the one who understands the necessities of NOW!