About Us Page as an Introduction to Your Book (your website):
Just like an introduction to a book, your Clothing Store About Us page will outline the main structure of what you do, why you do it, and how you do it.
There will be opportunities to be more specific about each of these vital introductory topics as you go, but the About Us page is dedicated to this sole purpose.
Is it necessary to have an About Us Page?
Ask yourself what a customer does on your Clothing Store About Us page. There are at least two logical answers to this question:
It's their first time on your website.
They're looking to find out more about you.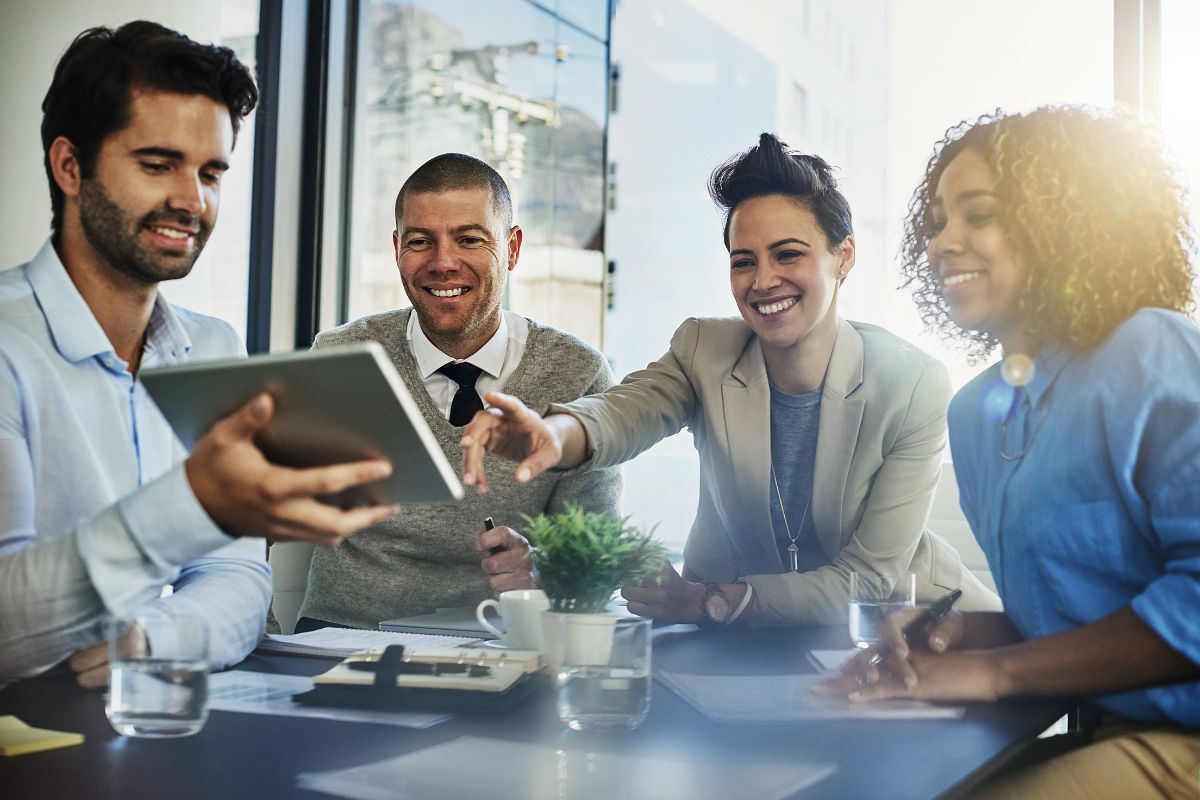 Along with the quality of the products presented, you are your brand's voice, and you need to make it sound informative and trustable. According to the poll conducted by Hubspot, the About Us page is the second highest-rated element, with 31% ruling in the efficiency of a website.
Trust Plus Curiosity Equals Conversion Rate Increase
The Clothing Store About Us page is all about creating the foundations of trust and expectations. What do you do when you first meet a person? Contact information and addresses are being exchanged, and everything starts from this point.
Needless to say, you are running an Online Clothing Boutique, and these contact channels are the only bridges connecting you and your customers.
You may wonder if the Contact Us page does the same job, and you're not wrong, but the About Us page has other purposes as well. If you play your cards smart, you can look promising, and they may want to get back to you to hang out more. This is where curiosity comes in; you want to convince them to be willing to spend more time on you and your website.
Similarities vs. Differences
Let's be frank. If you're not an Oscar winner, a Nobel Prize laureate, Gandhi or some other distinguished figures, you need to work hard to highlight the unique aspects of what you do.
There are a lot of similarities in any given field of activity, including online Clothing Stores. So, it's a good idea to avoid emphasizing the things that everyone does, and it's for the best to attend to the products, services and qualities that you, and only you, are focused on.
Things You Include in Your Clothing Store About Us Page
Regardless of the different nature of every business, there are some common things to consider in whatever products or services a website has to offer. Put yourself in the customer's shoes and see what your immediate expectations are of an About Us page.
1. What are you selling?
Introduce your products or services. Sure, you have found a market gap you are willing to fill; describe that need and help your reader understand the solution you're putting forward. This is how you pave the way to earn their trust.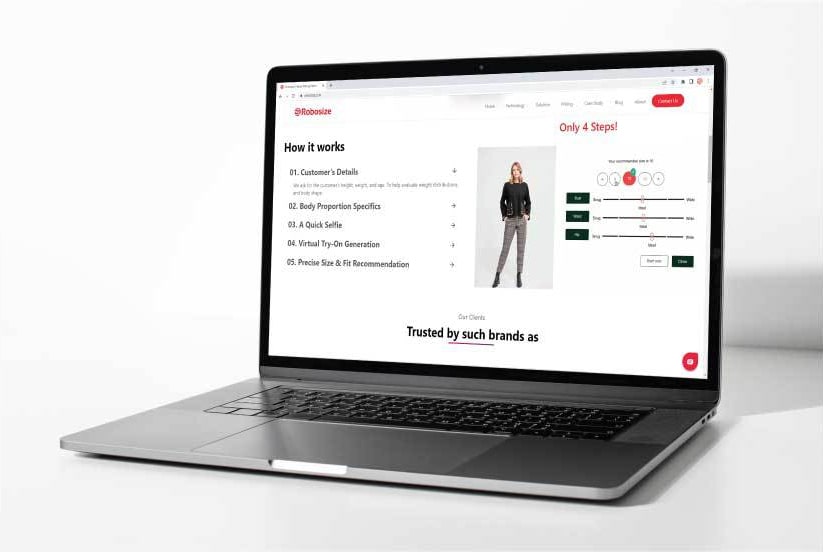 Virtual Fitting Room
The right size, The first time
Finding the perfect fit with a few clicks. boosts sales and cuts returns
Try Femo for Free
2. Tell your own unique story
As you may have heard, Seth Godin famously says: "Marketing is no longer about the stuff you make, but the stories you tell."
Ask yourself a couple of simple questions: What are your mission and vision? What does your brand stand for? Do you and your brand care about sustainability and other greater causes besides making money? It's more human to make friends and then lend a hand than to point directly at their pockets.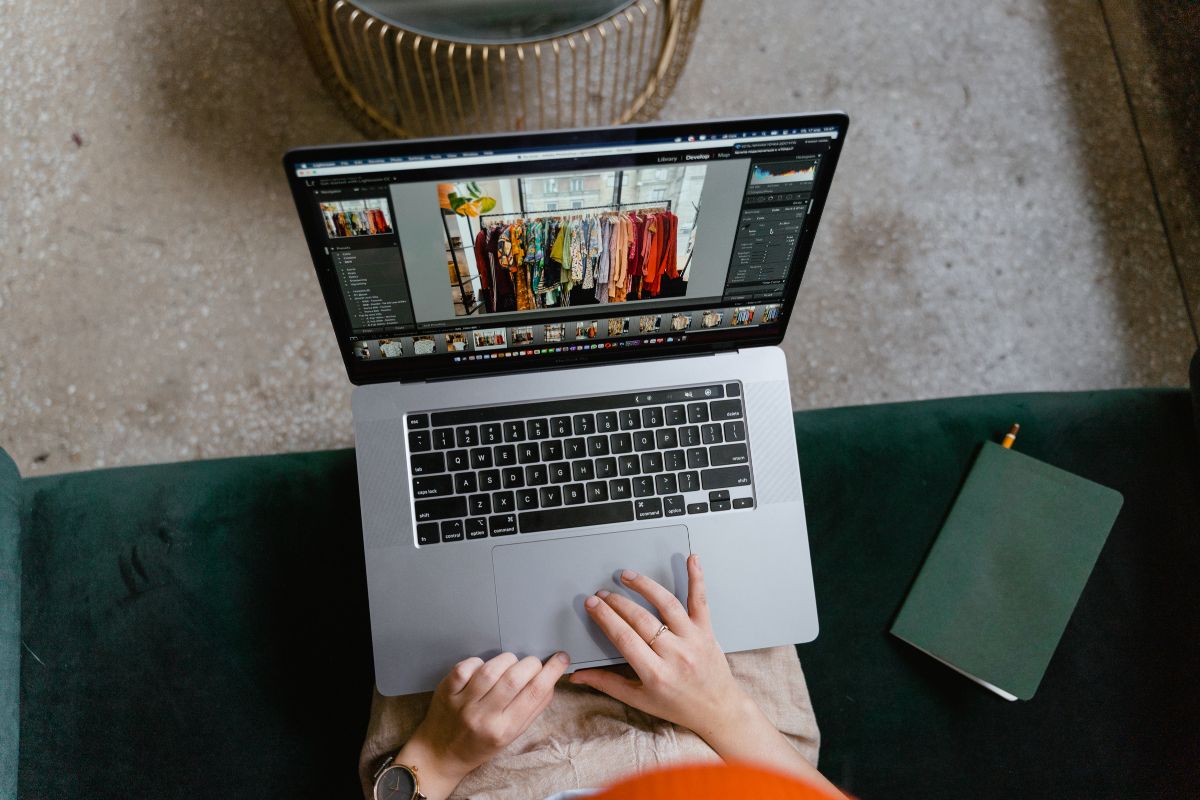 So, always keep this in mind: every business is a human interaction after all.
3. What differentiates you from them?
Why do you think you are a better choice than your competitors? Why should customers choose you? Make this argument more of a chat and convince them the way you try to persuade your close ones to do something.
4. Talk about your brand's origins
When's your birthday? It's one of the first pieces of information we get in making new friends, right? There is no need for you to be established ages ago to mention the date that you began your journey. Every few details on this matter will help you look honest and gain more trust.
5. Let your customers into your world
Don't hesitate to share some intimate moments of your journey, and the real people involved in your mission. Photos, videos and audios are a MUST in doing so.
6. Customers can vouch for you
Refer to customers' reviews. There is nothing more impressive than what others think of you. Show your customers the endorsements of other loyal clients; this will work magic on them.
7. Make yourself reachable
Introduce some other spaces that you're active in. You are a member of the apparel industry and need to be seen as a serious member of your community.
So, make your social media links available for the customers to check on you themselves. Quick access to these platforms by placing social media buttons in your eCommerce clothing store is more convenient.
Providing a map to your physical location (if there is any) is an extra point.
8. Share mutual happiness
What can guarantee your dedication to customers' happiness more than them showing it? Make sure to be actively present on your preferred social media platforms with photos of the customers wearing your products, looking beautiful and satisfied with their purchases.
9. Be proud of your qualities
Certifications, testimonials, awards, statistics, infographics and specialized business reports are proof of you doing a good job. Please, don't be shy and share them with first time visitors to help them decide on your credibility.
10. Call to action
You can't afford to miss any chance to involve your visitors in actions to turn them into customers. Leading them through links to your website can place them in a buying position, or at least considering.
Face them with "something to do" right away. You may lay out different kinds of actions to have their attention, providing them with links to your complete detailed catalogs, following hot trends, giving them some tips to look sexier and so on.
11. Be brief
No matter who, everyone's time is precious; in other words, the About Us page should be as short as possible, and if you need an exact number, it's been said that 2000 words will do the job.
Improve Your Search Engine Ranking with the About Us Page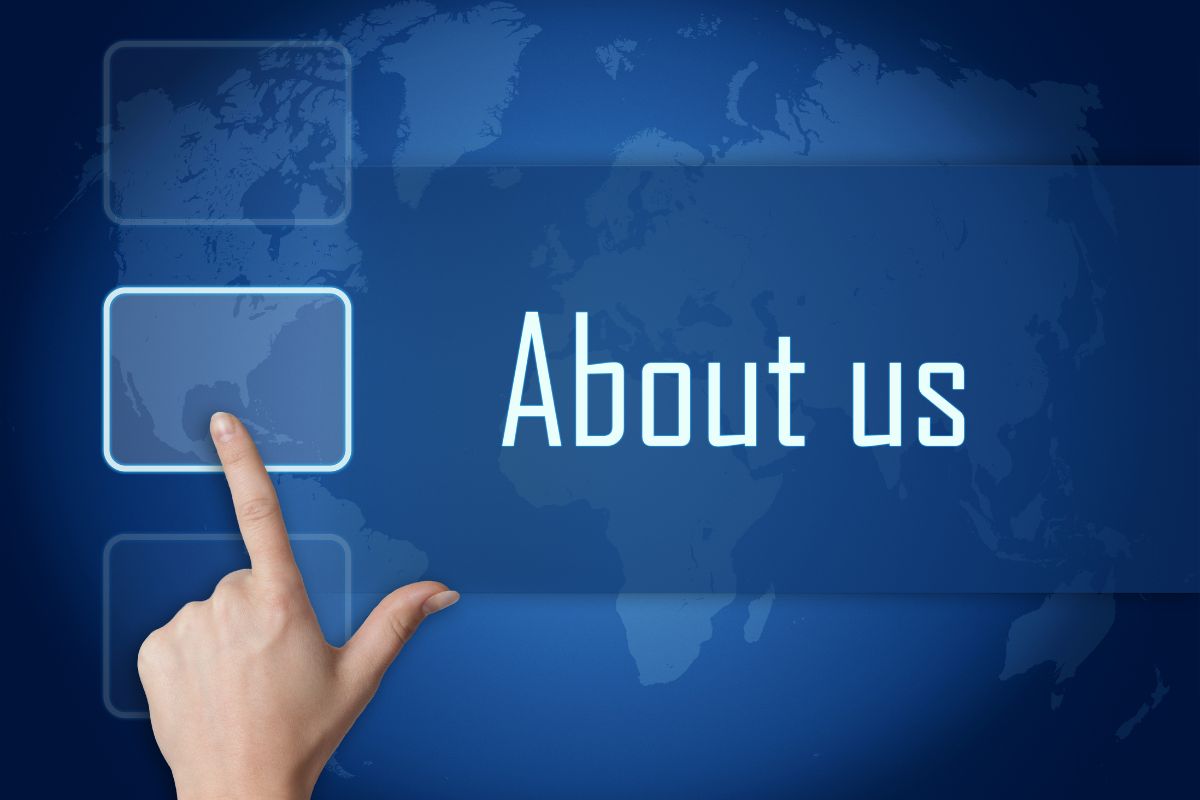 When it comes to your online Clothing Store About Us page, you may be busy with some other means of persuasion and not paying particular attention to SEO. But actually you put a lot of backlinks to improve your Clothing Store's search engine ranking.
Update, Revise, Reframe
You and your brand will change along the way. Your gained experiences will affect the way you look into the world and your business. So, you need to update your information, revise your content, reframe the format, and present your story more relevant to your ever changing-ecosystem.
Caution: Don't be Another Template!
You want to be unique, singled out and the one with something new to offer. Practice this notion in every process, and don't apply overused forms.
Your Clothing Store About Us page is where you can strongly show that you are new and even (carefully) unusual. Be bold, innovative and willing to experience. Who doesn't want to be surprised (again, carefully)? Try it, and keep in mind that you can always Update, Revise and Reframe your Online Clothing Business About Us page.
Conclusion
Remember that not all your customers are scholars or literary masters; even if they are, they're not in your Clothing Store About Us page to read a literary masterpiece. So, write what you have in mind in the simplest form. Don't waste your customers' time and present them with a number of facts. This way, they will trust you and listen to what you have to say. Let the truth speak instead of fancy words.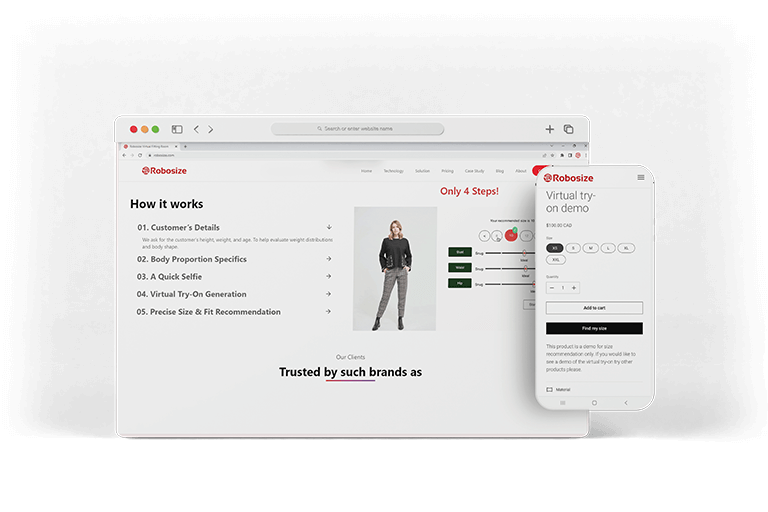 Fit Advisor
Fit advisor helps your customers find the right size with a few clicks; so they can buy with confidence.
Let`s Talk