It's not difficult to flaunt your enthusiasm for fashion in today's technology-driven world. Selling one-of-a-kind creations, unique styles, and fashion pieces is now possible, cheap, and quick to set up through online platforms. Although apparel and accessories are the most common things sold in boutiques, there is room for innovation by including additional high-end items such as handcrafted soaps and designer home goods.
However, even though starting an online boutique store for beginners is simple, knowing How to Have a Successful Online Boutique That Sells is tricky. Most articles focus on how to start an online boutique store rather than; on "how to make an online boutique successful sales."
Henceforth we are here to help, but we would suggest before going through this article, if you are just setting up your e-commerce fashion store, read "How to start an Online Boutique? For Beginners" before going through this article.
How to Make an Online Boutique Successful?
Starting an online boutique store is only the start of a challenging journey of having a successful e-commerce fashion store. Just because you have launched your online store on an e-commerce platform does not mean your products will start to sell.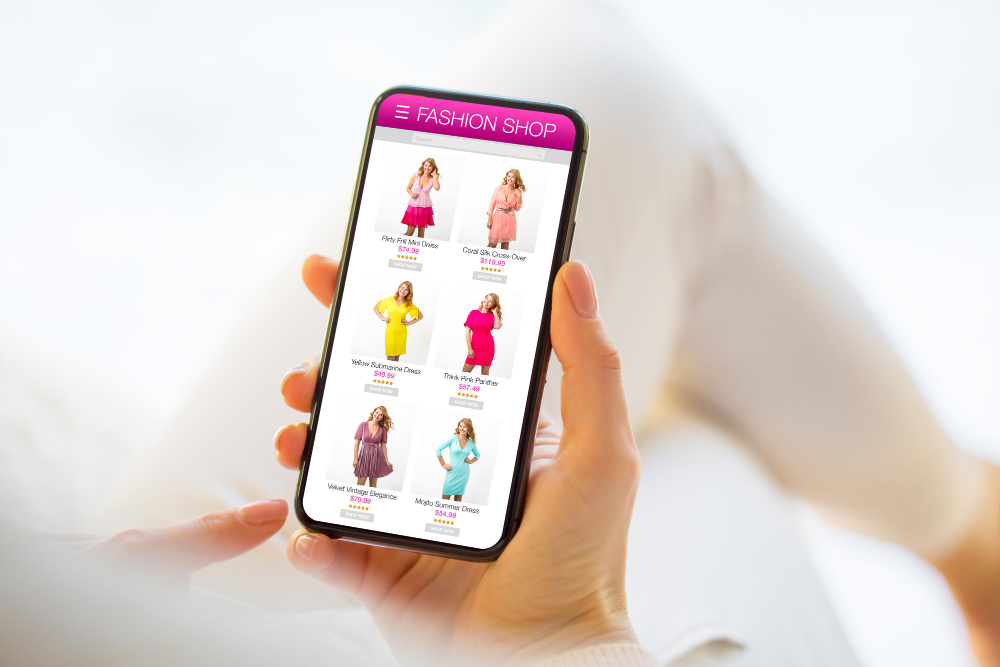 For an online boutique business to thrive and prosper, it is necessary to use strategies that increase conversion rates, sales, and profitability. These factors are the foundation for determining if an online boutique is booming or needs significant changes. 
The Conversion Rates
The average conversion rate for your e-commerce store determines how well your website sales and profits are doing. Once you know your conversion rate, calculating the sales and profit percentages is easy too.
The average conversion rate for each online store and category is different. So you should find the conversion rate benchmark for your precise store, category, and product before continuing. For example, the average conversion rate for online fashion boutique stores based on September 2022's latest data should be 1.53%. Still, this average does differ by product category in the fashion industry.
For a better grasp of your targeting Average Conversion Rates in e-fashion or any other e-commerce industry, you can read through this article: Average Conversion Rate for E-commerce Stores. Then you need to determine your conversion rate as a targeting figure to make a successful online boutique store.
How To Have A Successful Online Boutique That Sells?
This article will give you the solutions to having a successful online boutique that sells with high conversion rates. We will assume that you have already set up your e-commerce store and are looking for solutions to make successful sales. So, let's jump into the 7 practical solutions to a successful online boutique store that drives sales and profits.
Check Your Brand's Consistency
Whether your e-shop specializes in antique clothing or child fashion, whether you offer minimalist designs, handicrafts, electronics, accessories, homeware, or a gorgeous jumble, your business should have a distinct aesthetic.
Creating a balance between this style and your business's designs, logo, and promotions helps reinforce your e-Commerce brand and make your target audience feel at home while visiting your online store.
So Check:
Your Theme, Values, Objectives, and Missions: Ensure the products and platforms reflect your themes, values, objectives, and missions.
Consider Your Color Scheme: To entice your shoppers, consider having a colour scheme that matches your branding, the logo, and the general website template. This also provides professionalism that creates trust for the website browser.
Website Layout: Choose a Layout that conveys your style. Suppose your conversion rates on your website are low. Consider checking your layout.
Objectives Vs. Processes: The objectives versus how your business processes are being operated are vital to how your consumers perceive you. If your objective is sustainability, using non-eco-friendly materials or fashion items that use animal skin from endangered species would be redundant and inconsistent.
Ensure there is a degree of consistency between what you preach and what you do in terms of business outcomes. Then, apply this uniformity across your website, social media platforms, internet advertisements, and marketing materials. The outcome is a beautiful and vibrant interaction between the products, display platforms, and your brand with your customers. At the same time, showing off professionalism and expertise.
Optimize Visuals
The first step in making a successful sale of products online is to pique the aesthetic interest of your customers. Whether fashion merchandise or a digital product, images can dramatically impact consumers' choices.
To exemplify, you'd want the photographs on your e-boutique to be so stunning that customers can't help but see themselves wearing your fabulous pieces. It might be worth your time and money to hire a professional photographer and use an editing programme to refine your images and wow your customers in the process. 
To ensure that your consumers have all the information they need before purchasing, you can take things further by including product videos on your site. Or even better, consider utilizing new technologies like Virtual Fitting Rooms.
Bear in mind high-quality photographs reduce the number of returns received. Customers' likelihood of wanting to return an item decreases when they get a clear view of the item's condition. They can make informed purchases that will not require exchanges or returns due to the proper imagery you provided.
Optimize Your Platform To A Mobile Friendly E-Commerce Store
You must pay attention to the fact that many customers nowadays will access your e-boutique store from their smartphones. Maximize the responsiveness of your online shop by checking it out on various devices with different screen sizes and focusing on the mobile view.
There are several key differences between purchasing on a mobile device and a desktop computer. Mobile shoppers would rather scroll than click. Thus it's essential to have a vertical layout on your mobile devices, even if your desktop site spans the entire screen width. All of the images and text should be sufficiently sized and separated from one another to facilitate simple viewing and navigation.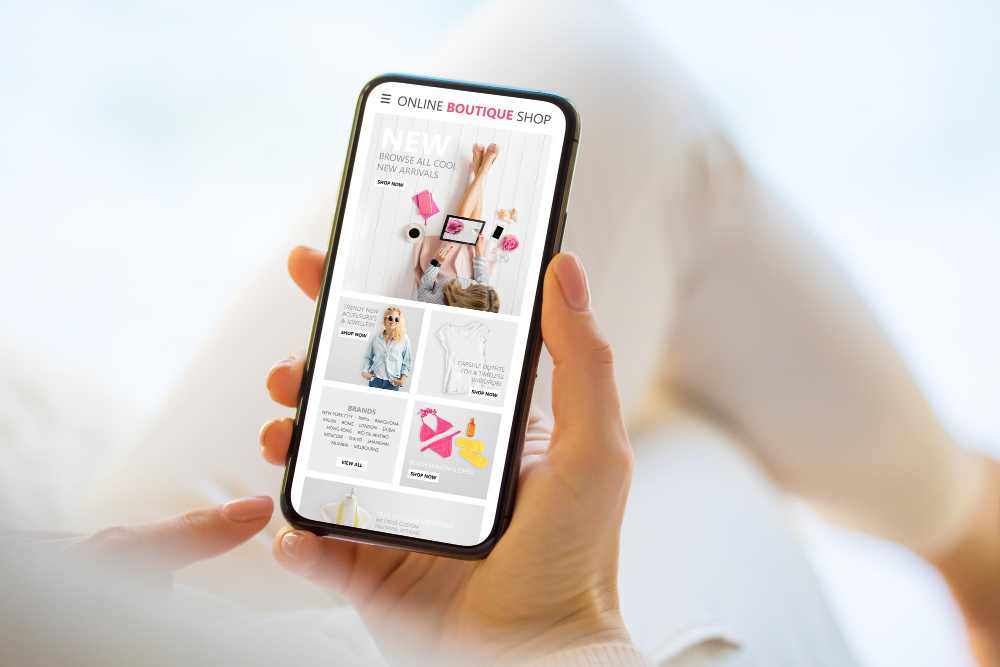 Make it easy for shoppers to find what they're looking for by categorizing your product groupings and selections in a straightforward and understandable manner. Creating a mobile-friendly website that is fully functional and readily accessible draws customers to your branded online store with ease. 
Website Traffic Boost Through Social Media Marketing
You would be naive if you think we live in an ideal world where customers discover your business independently. You must market your e-commerce shop on the social media platforms they utilize and interact with the most. Familiarity with social networking platforms is an essential aspect of e-commerce business strategy.
Whether an e-fashion store or an online e-business shop, you should put maximum effort into social media marketing and advertising. You should put enhanced resources on Facebook, Instagram, and Pinterest for online clothing and apparel stores. However, this may differ depending on your target audience and industry market.
But in the fashion industry, Facebook, Instagram, and Pinterest provide the largest target audience, prominent visual elements and features that can draw in consumers at a minimum cost.
Integrate Social Media Platforms Directly into Your Online Boutique
Creating a significant online identity takes time and effort. But maintaining a steady flow of material, tuning in to your readers' habits and language, providing prompt responses, and establishing an intimate bond with your social media viewers will undoubtedly lead to a rise in site traffic, enhanced conversion rates, and triumph in successfully profitable sales. This will be enhanced by utilizing your social media marketing strategy mentioned above.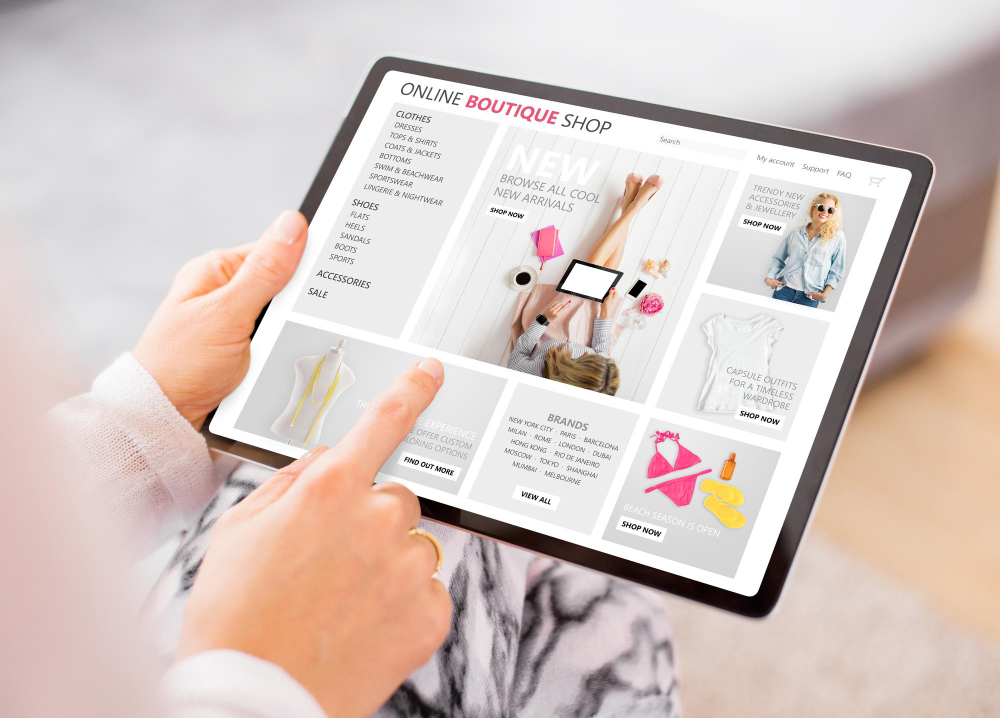 So, integrate your social media platforms like Facebook and Instagram with your website and activate the shop widget on the social media platforms themselves. This integration will open up a new customer base for your brand. Also, construct a Facebook store to directly accept consumer payments on social media websites. Make it easy for consumers to browse your products by linking their Instagram accounts to your online shop.
Running Facebook ads is another way to get your items in front of consumers while they peruse the social media platform. If you've built an online boutique, generate advertising tailored to your potential consumers and consumer demographic.
Search Engine Optimization (SEO) and Content Writing
SEO (search engine optimization) should be considered the cornerstone of every online presence. You must include optimized content information to appear successfully on Google or search engine result pages. There is a higher chance for your website platform to be spotted by a potential consumer on different search engines if the content is search engine optimized.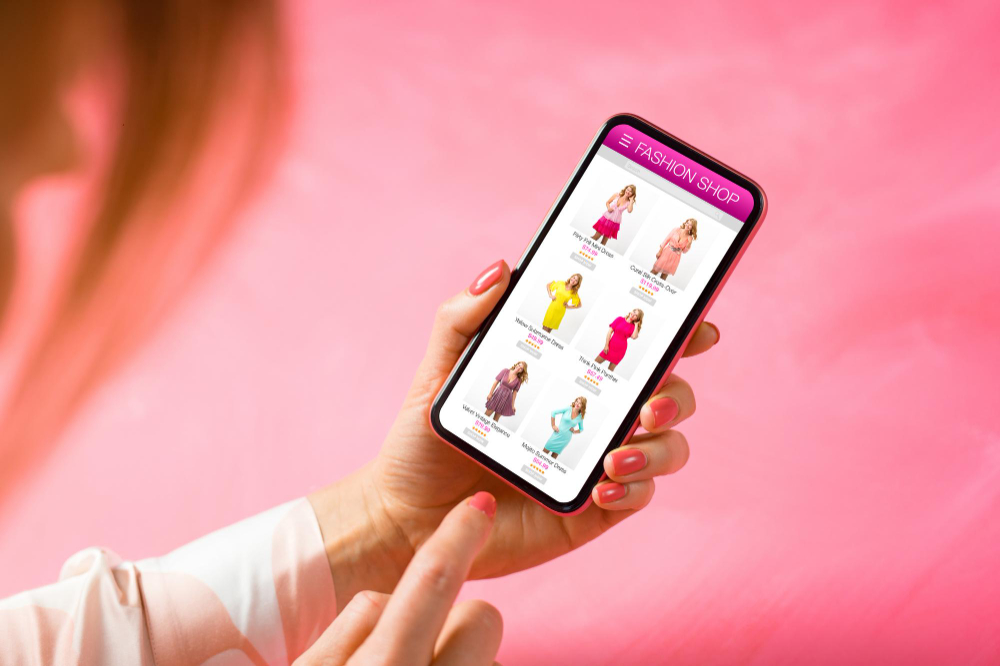 However, as crucial as search engines are to your site's traffic, you don't want SEO to control your site's content completely. Your writing should seem natural and different from a combination of keywords. Locate the sweet spot wherever search engine optimization and company identity work together in harmony. Don't Overwhelm the browsing customer. Humanize your greeting by avoiding seeming too "pushy for sales" through your content writing.  
Utilize Virtual Fitting Rooms
One step ahead of the detailed imagery and precise visual assistance, one productive strategy you could utilize is virtual fitting rooms. For a successful sale strategy for your e-commerce store, it's imperative to discover strategies to please clientele. As an e-store, you must differentiate yourself from other online competitors by providing consumers with exclusive products and services.
One strategy is providing a captivating virtual dressing room experience that might give your brand an edge over the competition. Meanwhile, it will help your e-commerce boutique store to earn a superb reputation among customers for offering trustworthy purchasing strategies.
A Unique Virtual Fitting Room Solution
The best aspect of Robosize's Virtual Fitting Room is that it provides its clients with a unique virtual fitting room solution. With the rare capability of incorporating both size and style recommendation virtual try-on rooms, it has elevated the extent of this technology's usage and application.
Robosize A Successful Sale Strategy For Online Clothing Boutique Stores.
Robosize is a comprehensive sale strategy for online fashion boutiques. Robosize Virtual try-on room uses 3D, AI and AR technologies with the near-realistic simulation of the in-store shopping experience. Without physically visiting the business, the customer can create a very accurate mental image of their desired ensemble. While also experiencing fun, inclusive, sustainable, cutting-edge technology during their shopping experience.
Robosize is an app that asks users basic information and then uses a selfie to show them how a product would look on them in the precise size. Used as a universal remedy for e-commerce fashion stores. It's an online changing room that lets you virtually try on clothes and provides suggestions based on your measurements. It's a comprehensive answer since it addresses several problems with a single long-term action plan.
Robosize Virtual Fitting Room The Ultimate Cherry On Top Successful E-Commerce Sale Strategy
Using Robosize, you allow customers to make educated insightful decisions which reduce returns, increase conversion rates, and enhance sales profits for the e–business.
Companies like Robosize provide a Free Demo and Trial period to online fashion boutiques to allow them to test and evaluate the widget. An apparel e-commerce store can assess the successful sales and conversion rate results before committing and integrating Robosize's virtual fitting room software into its platform permanently and effectively.
The Wrap-Up!
If you're serious about establishing an online boutique that sells, you'll find that the 7 tips provided are the best way to go. Meanwhile, suppose your business aims to increase product sales, profitability, and conversion rates for an online boutique business. In that case, the ideal strategy for an online clothing shop may be to implement a virtual try-on room.
In today's fast-paced and technologically-driven environment, millennials and Generation Z shoppers want greater efficiency and convenience from their retail experiences. One of the most significant ways to ensure the success of an online boutique is to use a virtual fitting room service like Robosize.